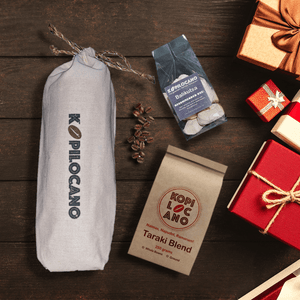 Our Taraki Blend is our in-house blend made from the freshest Arabica, Robusta and Liberica beans using our heirloom recipe. It has a strong flowery aroma with balanced acidity. Our gift pack comes with a 250 gram pack of Taraki Blend and Balikutsa pack of 10s in a stylish pouch.

* Our coffee beans are roasted daily and packed once an order is placed to ensure you receive them at their freshest.

** Our coffee can be used for any brewing method be it coffee drip, french press, coffee maker, moka pot, stove top coffee maker or espresso machine.

*** We can grind the coffee for you be it coarse, medium or fine.
Check out our brewing guide to help you choose the best grind for your coffee.

Package Contents:
Kopilocano Pouch
Taraki Blend - 250 Grams
Balikutsa - pack of 10s