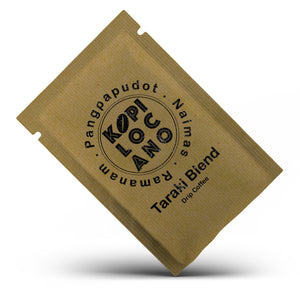 Your ON-THE-GO Coffee!
Taraki Coffee Bag is a new way of brewing coffee as it is easy and convenient. No need to go to coffee shops to create a Coffee Shop-style coffee. All you need is hot water.
Our Taraki Blend is our in-house blend made from the freshest Arabica, Robusta and Liberica beans. Strong flowery aroma with balanced acidity.
Instructions:
1. Put coffee drip in a cup.
2. Add/Pour hot water.
3. Add creamer and sugar to taste.

Package Contents:
1 coffee drip

Naimas! Ramanam!
Also available in Coffee Bag Pack of 10s, Pack of 3s and 250 gram pouch.
You take part in our advocacy of giving back to the community with every purchase of coffee or gear.