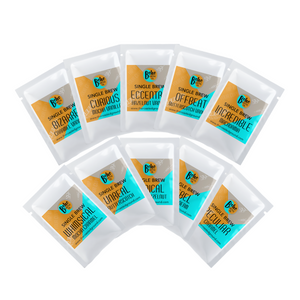 Boho Coffee Co. - Single Serve Drip Coffee - Box of 10 Sachets
Our best coffee selection of flavor infused coffee in ready to use Drip Bags. No need for any coffee making equipment. Great for that on the go coffee fix!

Available Flavors:
Peculiar (Caramel)
Rebel (Irish Cream)
Radical (Mocha Hazelnut)
Unreal (Butterscotch)
Whimsical (Mocha Caramel)
Bizarre (Caramel Vanilla)
Curious (Mocha Vanilla)
Eccentric (Hazelnut Vanilla)
Incredible (Macadamia)
Offbeat (Butterscotch Vanilla)
* Our coffee beans are roasted daily and packed once an order is placed to ensure you receive them at their freshest.
Package Contents: 10 grams per sachet
You take part in our advocacy of giving back to the community with every purchase of coffee or gear.